Violence
|
Sexual Content
|
Profanity
5/5 stars
Loved this so much!
Why did it take me so long to finally read this book?
If it weren't for decluttering and purging my book collection I might NEVER have gotten around to it, and what a waste that would have been.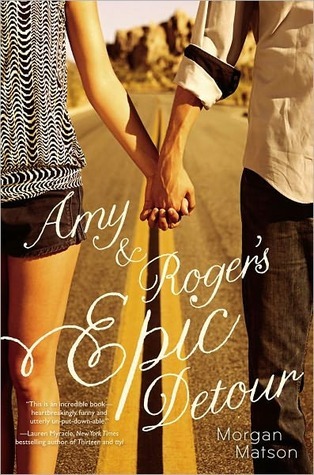 *US*
I have always loved the idea of reading more

road trip books

, and while I admit to not having read many in the past, if many more that are to pass through me are as enjoyable as Amy & Roger's Epic Detour I must pursue more of them in future. This book really honed in on the idea that it is not in the destination, but the journey itself, and the people with whom you travel. Amy and Roger were not on a road trip for fun, but rather as a means of transporting her mum's car to their new home on the other side of the country . . . but

what starts as a little detour from her mum's carefully plotted itinerary, calculated by mileage and fuel efficiency, ends up being the trip of a lifetime

.
My favourite part of the book would definitely have been the road trip portion itself. I adored the incorporation of photos and receipts that Amy accumulates and curates into her travel journal (a gift from her mum), and felt that it added to the whole experience.

I could not help but smile to myself many times whilst reading this book, it was just so fun, wholly engrossing, and allowed me to travel to America without even leaving my room.
Amy

isn't anything too special. I didn't personally find anything spectacular about her, and to be honest, I think that's okay. Not every character has to be super talented or passionate; Amy is just trying to get by, trying to grieve over the loss of her father and the guilt associated with that loss. It is a big weight to carry on one's shoulders, especially if there isn't anyone around to be there for her emotionally. So yeah, she does come across as whiny and selfish at times for complaining about the whole ordeal, being left in their old home for a month and then having to do this road trip thing with what is basically a stranger to her, but I felt that she was entirely justified for doing so. And she becomes accountable for her actions, she has a conscience and a good heart, and I adored her for that.
And

Roger

. I liked his character arc too, and I can sort of understand that blind devotion one can have to a certain person. His own internal journey was satisfying to watch unfold, and I enjoyed seeing where the two were going to end up.
The

writing was easy to read

, and there were flashbacks interspersed throughout the narrative that provided the reader with more insight into Amy's memories of her family history. Matson succeeded in really bringing in emotional impact that forces the reader to sympathise with Amy, and maybe understand a little bit more why she has become so stilted and closed off.
There is also quite a lot of

music

, as you might expect when a road trip is involved! I still have yet to go through every playlist (because I prefer to read in silence), but I will do so in my own time. :)
Favourites:
"T

here were no other cars on the road. Just the sound of the wind and the motor idling, and through his open window, the faint clicking sounds of Roger making another mix. I closed my eyes, and let the wind whip my hair around my face, letting out a breath I hadn't known I'd been holding. (86)
"'T

omorrow will be better.'




'But what if it's not?' I asked.

'Then you say it again tomorrow. Because it might be. You never know, right? At some point, tomorrow will be better.'